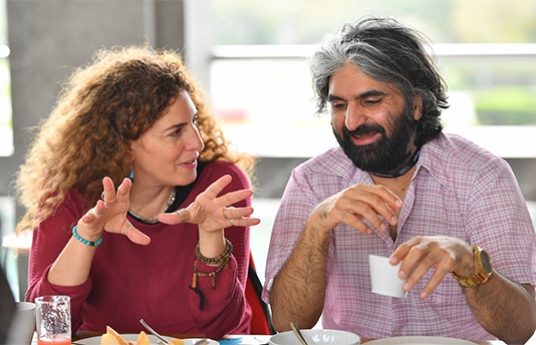 2019 Qumra filmmaker mentors encourage new talents to stay committed to their voice and chart their own unique journey
Highlight the importance of nurturing young talent through dedicated industry development initiatives
Doha, Qatar: 17 March 2019: At the fifth Qumra, the annual industry event by the Doha Film Institute, some of the Arab world's most recognized filmmakers, shared their insights for young filmmakers starting out in the industry.
The 2019 Qumra filmmaker mentors including screenwriter, director and producer Ghassan Salhab, filmmaker and visual artist Karim Aïnouz, filmmaker and poet Annemarie Jacir, and film director and producer Tala Hadid highlighted the importance of staying true to your voice and the need for development initiatives such as Qumra to foster the next generation of filmmaking talents.
Karim Aïnouz, critically acclaimed director of films including Madame Satã (2002) and Love for Sale (2006), said: "My advice to aspiring filmmakers here at Qumra is to protect your vision and stay true to yourself and what it is that you want to talk about. You need to think: who is it that you want to talk to, and what do you want to say to them? You also need to be able to answer these questions to people in the industry, who need to be convinced that your film should be made."
This was a sentiment echoed by Beirut-based Ghassan Salhab, director of Beyrouth Fantôme (1998) and Terra Incognita (2002) , who also writes about and teaches film. He said: "Young filmmakers here at Qumra will benefit from a lot of advice about their projects from people like me. There's a danger that all this advice will be overwhelming. It's important not to get lost in other people's voices and listen to yourself and what it is you want to achieve. You are your most important critic."
All of the mentors agreed that initiatives like Qumra were vital in nurturing emerging talent in the industry, and much-needed in the Middle East regionas itprovided for "a real exchange" between industry experts and new filmmakers.
"For Arab filmmakers today, there are not a lot of places they can go for support", said Annemarie Jacir, whose most recent film Wajib (2017) won 18 international awards. "Qumra is really unique in the region as a vehicle to help develop the talent of the next generation of Arab filmmakers. I wish that this kind of initiative had been available when I was starting out in the industry. My advice to new filmmakers here is to take advantage of the opportunity and make important connections that could help you throughout your career.
Morocco-based Tala Hadid, whose film House in the Fields (2017) a
DFI supported film, said that she enjoys being a Qumra mentor because she gets an opportunity to learn as well as to teach. She said: "Each year I'm impressed by the high calibre of projects I see at Qumra. These are a bunch of really smart kids whose projects are bold and diverse. As well as offering advice from my experience, I am inspired by the work I see at Qumra, the energy of the young filmmakers here, and the new processes and ways that they work."
The fifth edition of Qumra brings together more than 150 acclaimed filmmakers, industry professionals and experts to nurture 36 Qumra Projects – by first and second-time filmmakers that are in various stages of development. The six-day event takes place 15–20 March at Souq Waqif and the Museum of Islamic Art, and features Qumra Master Classes, Qumra Talks and screenings in the Qumra Masters and New Voices in Cinema series.
The fourth day of Qumra 2019 will present the Qumra Masters screening of Kiyoshi Kurosawa's Tokyo Sonata at 7 PM. The second Qumra Talk at 5 PM with Michel Reilhac, entitled 'Welcome to the New Reality: How VR is Changing our World'.
Further details about ticket prices and sales for the screenings are now available on www.dohafilminstitute.com.