Qumra Talks gather leaders from the technology, film, television and online worlds to weigh in on diverse topics. The panel-style talks are geared toward the evolution of technology in digital storytelling and distribution.
Click here to download Qumra 2018 Catalogue.
---
11 March at 4:00 PM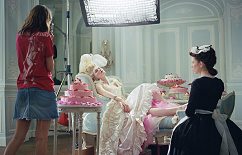 On Photography with Brigitte Lacombe
with Brigitte Lacombe and Marian Lacombe

In partnership with Northwestern University in Qatar

Acclaimed photographer Brigette Lacombe along with renowned documentary filmmaker Marian Lacombe will showcase their collective work in photography and film. The presentation will span Brigitte Lacombe's illustrious 40-year career in the world of cinema, working with some of the industry's biggest names including Martin Scorsese, Meryl Streep, and Leonardo DiCaprio. The Lacombes will also discuss their work on two Qatar based projects 'I am Film' and 'HEY'YA'.

MODERATED BY: Emma Pritchard Jones
Read More
EMMA JONES BIO
Emma Pritchard Jones has worked across BBC News as an arts and culture reporter, reporting live from global events from the Oscars to the Cannes Film Festival. Her passion is for women to thrive within the creative industries, and in 2017 Emma gave a TED talk on 'The Toxic Female Gaze', on how the way women are portrayed in the media filters down and affects self-esteem. Emma has also launched her own platform, Electra Media, to focus on interviewing famous women differently by focusing on talent, career and opinions, rather than age, bodies and relationships.

BRIGITTE LACOMBE BIO
Award-winning French photographer Brigitte Lacombe has been capturing portraits for over 30 years, as well as working as a photographer on film sets for iconic directors such as Martin Scorsese, Lynne Ramsay, Steven Spielberg, and Spike Jonze. Since 2009, she has been working on a project for the Doha Film Institute - a collection of over 350 portraits of international filmmakers and actors called 'I am Film'. In 2012, Qatar Museum commissioned Brigitte for the project 'HEY'YA: Arab Women in Sport', which was shown at the 2012 London Olympics and is still being exhibited around the world.

MARIAN LACOMBE BIO
Marian Lacombe was raised in France and studied in New York. For the past 20 years, she has worked as a reporter, anchorwoman, and editor-in-chief on daily news and magazine shows for the private French television channel M6 in Paris. She opened and ran its correspondent headquarters in Lyon and Marseilles, and is now an independent documentary filmmaker.
12 March at 4:00 PM
Virtual Reality: Storytelling through Emerging Media
with Simon Wilkinson

In partnership with the British Council

This fascinating talk will introduce participants to the latest developments in the world of Virtual Reality (VR). Join us as renowned artist Simon Wilkinson takes us through his career from film to the emerging fields of virtual and augmented realities. Simon will share the most critical audience trends of the last decade as well as his experience gained from producing VR installations. The talk will conclude with a Q&A session, followed by the exclusive first public viewing of Simon's latest work - 'The Third Day'*.
*THE THIRD DAY
'The Third Day' is a virtual reality installation that presents a story of a group of people who wake up one day in a strange place with no idea of how and why they came to be there.
Read More
SIMON WILKINSON BIO
Simon Wilkinson has been described as "one of the most notable names in Europe to be dealing with VR". He guests lectures at a large number of international universities and was the lead facilitator on British Council's Transmedia Thinktank in Venezuela 2016 and in 2017 was a resident at Cambridge University's Centre for the Future of Intelligence exploring the use of artificial intelligence in his practice. In 2018 Simon began work on a gallery based narrative installation piece 'The Third Day', as part of a residency with London based Gazelli Art House gallery.


13 March at 4:00 PM
Content for a Fragmented Media Universe
with Jon Kamen

In partnership with Northwestern University in Qatar

The future of media is rapidly changing. Social media and smart devices have disrupted traditional models of consumption, and the media landscape is becoming increasingly fragmented. Jon Kamen, CEO of RadicalMedia shares his thoughts on these emerging trends and suggests how businesses can create impactful and compelling content for this new reality.
Read More
JON KAMEN'S BIO
Jon Kamen's artistic vision has solidified RadicalMedia's position as one of the leading generators of award-winning content for television, film, digital, and on-site platforms. Their work includes the Oscar-winning 'The Fog of War', Oscar-nominated and Emmy-winning 'What Happened, Miss Simone?', and Oscar-nominated 'Paradise Lost 3: Purgatory'. Among the company's past network partners are ABC, Viacom, AMC, BET, Bravo, CBS, CCTV, Discovery Channel, ESPN, HBO, and MTV.